This is just….NO! Thank heaven for little girls huh? Man look, we wouldn't ever be able to leave the house let alone face our fathers again if we did this! According to Gawker, a daddy's girl named Nyjah, who goes by @dearfashionn on Twitter, became an overnight internet celebrity when she inadvertently texted a nude photo of herself to her dad instead of  to her man!
Nyjah went to Twitter in an attempt to figure out how to get the freakin message back from cyberspace but at that point…it was too late!
Her father was reportedly crushed (as any father would be!) and was already hitting her up relentlessly via phone, text and FaceTime.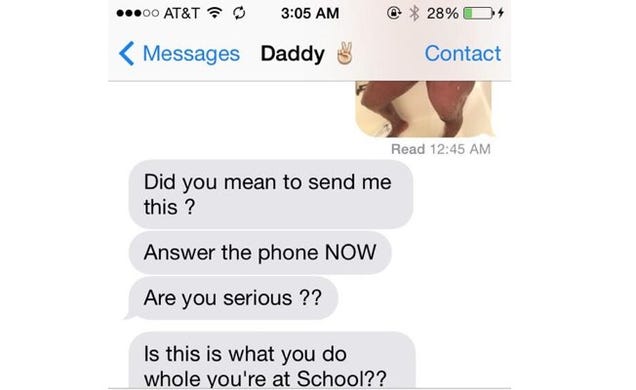 Doh! According to Instagram…her father really did come over too!
We don't know if they have reconciled yet or if Nyjah ever bothered to open the door for her daddy or not…but we sure hope she did! We also hope that they have gotten past it! Actually, we hope this is some ol' "Catfish" type hoax! Because we simply can't wrap our minds around being in either the father's or the daughter's positions!
[Editor's Note: As Gawker quite correctly pointed out, it's not that tough to stage iPhone screenshots, so this could be a hoax. But if it's not, poor Nyjah is living a 21st-century waking nightmare.]
Also On Black America Web:
This Week's Celebrity Instagrams (11/26-12/2)
1. Little Legend and Puddy 😍😍😍😍
Source:Instagram
1 of 30
2. "You on point Phife?" "all the time,Tip". 💥 #bannedfromnormal
Source:Instagram
2 of 30
3. Vegan! The Impossible burger at Crossroads
Source:Instagram
3 of 30
4. Lawrence #BeforeandAfterEpisodes 1-4: 184lbs 13% body fatEpisode 8: 196lbs 8% body fat S/O @coachdaveboxing with the works outs and @kildareriordan with the nutrition
Source:Instagram
4 of 30
5. Jus haaaanngin out
Source:Instagram
5 of 30
6. Meanwhile back at home in Atlanta GA someone mad they not on the 🛳. 😳
Source:Instagram
6 of 30
7. No limits... Photo cred: Chris Bridges @ludacris
Source:Instagram
7 of 30
8. new new
Source:Instagram
8 of 30
9. Apparently my 260lbs is too much for the actual vines in the Hawaiian jungles to hold me without breaking and me falling hundreds of feet. So for safety purposes, I'm forced to swing thru #Jumanjj on wires strong enough to hold 12 adult buffaloes and 1 adult Rock. #OnSet #Jumanji #IronicallyIEatBuffaloDailyForLunch #MoreManThanNatureKnowsWhatToDoWith
Source:Instagram
9 of 30
10. hey ma! 🎎#wcw 💙
Source:Instagram
10 of 30
11. Surprise visit to our factories!!! #GoodAmerican #USA
Source:Instagram
11 of 30
12. 😍❤️
Source:Instagram
12 of 30
13. Peachy Keen 🔥✨⚡️
Source:Instagram
13 of 30
14. If this don't look thankful I don't know what does. Happy Thanksgiving to you and yours. #UltraBlessed #24kMagic #SweetPotatoFly
Source:Instagram
14 of 30
15. Late nights @nbcmarlon with the writers... we in here!!!
Source:Instagram
15 of 30
16. There goes my baaaaaaaaabbbbyyyyy #QueenKingMagic!!! We're up to something! Ira BIG!!! Stay out our buisness -
Source:Instagram
16 of 30
17. You want to win every game you play but when you come home to these faces... who cares. #ILoveYouGirls best part of my day, everyday!
Source:Instagram
17 of 30
18. Steady,steady..... full size jenga.. "I got this one "???? Or do I ?
Source:Instagram
18 of 30
19. Cornrows kind of day 😉@dontaysavoy2 you convinced me and I love. ❤️️
Source:Instagram
19 of 30
20. #BrotherlyLove #tbt
Source:Instagram
20 of 30
21. More
Source:Instagram
21 of 30
22. #basel #TeamLOVE @kingcombs
Source:Instagram
22 of 30
23. Just introduced a special screening of @directher 's groundbreaking (must see) documentary @13thfilm with my brother @themichaelealy | @unitedblackout #blackoutblackfriday
Source:Instagram
23 of 30
24. Me & Vanessa Williams giving #DuckLips #Pose on the set of #DaytimeDivas @vh1 - Coming Soon to a tv near you. Lol. - My make up done by @makeupsurgeon
Source:Instagram
24 of 30
25. This picture just makes me wanna praise the Lord, you hear me!!!!!! Yes Lord brotha #TEDDYCAMPBELL What a #man !!! You are everything right on this picture husband ......... #gorgeous #stylish #classy #strong #masculine #king #sexy #debonair #gentlemenstyle And that #bible in your hand just seals the deal for me (probably cause i know that, that is what helped you become just as amazing as you look😘). While my heart and mind experiences the goodness of God at #church on Sundays, my eyes experiences the goodness of Teddy😍. Amen somebody🙌🏽. "Bless the Lord oh my soul and all that is within me bless his holy name" #myman #myhusband #goodman #blackman #dapperman #godlyman #goodfather #mybestfriend
Source:Instagram
25 of 30
26. Yesterday was my mama's 53rd birthday!!!!! Got to celebrate with her all day. If this is what I have to look forward to I can't wait. Looking like a soft bucket a cocoa butter. Yaaaaaaaaaas! 😍😍😍 love you mommy!
Source:Instagram
26 of 30
27. "Shout out to @PureAtlanta for getting the family right"....I'm loving this jogger. 😍😍
Source:Instagram
27 of 30
28. This pic warms my heart ❤️ #myLogiebeans and aunt aunt umba @itowandabraxton 😘
Source:Instagram
28 of 30
29. You will always be my baby😜. #HappyBirthdayReginae #mybaby18
Source:Instagram
29 of 30
30. GC "Gods Child" Red on Red SweatSuit available now at www.MonicaApparel.com ... Take Your Crown wherever you go!! I'm pictured in a Medium... Go to the site now for other options ... cc: @trukernell
Source:Instagram
30 of 30