Where oh where do we begin? According to Buzz Feed, the MTV Video Music Awards did something extremely special and unexpected. They took a touching moment or two out of the program to recognize the citizens of Ferguson, Missouri. They also said some kind words for murdered teen Mike Brown as well.
This should have been a mesmerizing TV moment. And it was…until…the cameras cut to a very bored Kardashian crew  in the audience. The sisters seemed to be texting, talking and doing everything but paying attention to what was being said. The siblings looked like they'd rather be studying to take the SAT's than sitting there listening to Common discuss a city in peril.
Take a look at the pics below at what was apparently happening with Kim, Kylie and Kendall while the tribute was going on!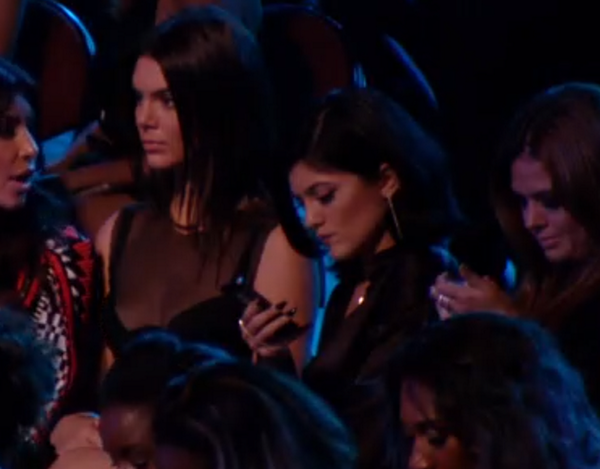 In true Twitter form the tweets started rolling in about what was going on with the K named sisters and it wasn't good!
For the record please notice that we said Twitter had a problem with it…not just "Black Twitter" the entire Twitter as a whole! We really aren't sure how these girls recover from this one. We don't think even their momager will be able to make this one go away anytime soon!
Now…do you think Kanye looked at Kim like this when she got home?
We're just saying!
Also On Black America Web:
This Week's Celebrity Instagrams (6/18-6/24)
1. Me & the homie @jaleelwhite #RujohnFoundation Happy to be in Jamaica! Good times
1 of 25
2. #Vegas
2 of 25
3.
3 of 25
4.
4 of 25
5. Good Morning. Early day in Detroit! Making press rounds for @thebossnetwork's Ladies That Lead Tour. Thank you @traycemadre and @colourbynumbr for my glam.
5 of 25
6. POWER the best show on TV @djenvy, Queens we so big out here. #EFFENVODKA #FRIGO
6 of 25
7. They said u lost a step, wasn't explosive as once was, the best days was in the real view, questioned your drive, your leadership, your commitment, you don't have killer instinct, going back home is the worst mistake in your career, he got the coach fired, players traded, won't work between him and Kyrie, Him and Kev won't work, love your teammates to much, there's no way he can deliver a championship in his hometown, etc etc etc.... But guess what THATS NONE OF MY BUSINESS #StriveForGreatness #ThisOneIsForTheLand #PutSomeRespeckOnMyName Hahahaha!!! Yes sir
7 of 25
8. Oooooh weeee this man right here is responsible for at least three of our four babies!! #JOE ❤❤❤🎤 #rnb #king #voicelikebutter #ForPeetesSake
8 of 25
9. Hanging with my @abcnetwork family! @abcunclebuck tonite y'all check us out ! @anthonyanderson @traceeellisross
9 of 25
10. My broski ( @sayeedshahidi ) and I are on Top 5 Live on @go90 at 5 (which is super duper close)! Make sure to tune in :) #UncleBuck #Blackish
10 of 25
11. Lights out💤 #GoodNight
11 of 25
12. Late nights mornings
12 of 25
13. Ran into the lovely talented @siedahgarrett on this brutiful favvuz deh!
13 of 25
14. #halal #love #thedargans #kattwilliamsSHOW #mashallah when that Jennah piece HIT!! @sweetjennahcollection glasses by @baddieglamaccessories LIZ 😍 @dynamiteko top @dazzledmv and jeans @thevision414 and shoes: @louboutinworld
14 of 25
15. Big Hair and Optical Illusions #OceanDrive #MiamiLiving #coverparty
15 of 25
16. MAMA and THE SAVAGES ... ⚓️ #supportyourlocalgirlgang
16 of 25
17. From the bottom of my ❤️, thank you new followers & old! & hello fellow night owls! #grateful #racheltrue #naturalhair #curlyhair #curlygirl #healthyhair
17 of 25
18. I feel so grateful because I met these amazing young minds, visiting from Houston TX, during their college tour stop today at #usc.These students are ALL extraordinary and embody academic excellence so I'm humbled to have shared a few moments with them to applaud and celebrate their bright futures ahead! Thank you @EmergeFellows for inviting me to speak and blessing me with your love and attention this afternoon!
18 of 25
19. Happy Fathers Day Pops. U taught me how to be a man. Lessons of love, hard work & gratefulness. Sorry the fishing didn't stick. LOL. I Love U!
19 of 25
20. Sky Zone and Ice Cream! Best Fathers Day Ever!! Photo credit @mariahcarey
20 of 25
21. Look what finally came in the mail 😎 #mtvmovieawards2016 💥+🌽! #straightouttacompton
21 of 25
22. Claudia Jordan: ....
22 of 25
23. 'Member that time I almost knocked a bajillion dollar camera off the car? Really? Yeah, me neither! #Greenleaf Episode 2 comin atcha!
23 of 25
24. Full of love. #birthday #Cabo
24 of 25
25. Oh hey! Look who just joined Snapchat
25 of 25