This is just….NO! Thank heaven for little girls huh? Man look, we wouldn't ever be able to leave the house let alone face our fathers again if we did this! According to Gawker, a daddy's girl named Nyjah, who goes by @dearfashionn on Twitter, became an overnight internet celebrity when she inadvertently texted a nude photo of herself to her dad instead of  to her man!
Nyjah went to Twitter in an attempt to figure out how to get the freakin message back from cyberspace but at that point…it was too late!
Her father was reportedly crushed (as any father would be!) and was already hitting her up relentlessly via phone, text and FaceTime.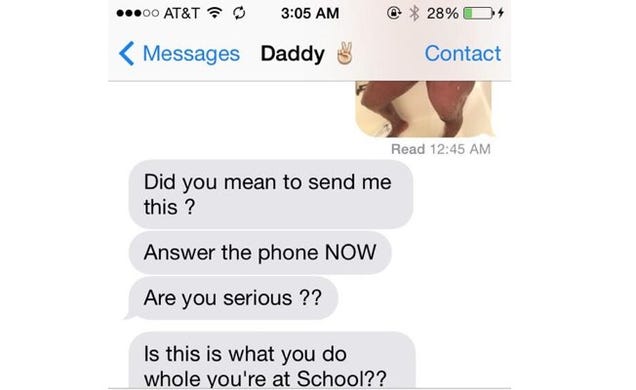 Doh! According to Instagram…her father really did come over too!
We don't know if they have reconciled yet or if Nyjah ever bothered to open the door for her daddy or not…but we sure hope she did! We also hope that they have gotten past it! Actually, we hope this is some ol' "Catfish" type hoax! Because we simply can't wrap our minds around being in either the father's or the daughter's positions!
[Editor's Note: As Gawker quite correctly pointed out, it's not that tough to stage iPhone screenshots, so this could be a hoax. But if it's not, poor Nyjah is living a 21st-century waking nightmare.]
Also On Black America Web:
This Week's Celebrity Instagrams (10/15-10/21)
1. Just a NY girl with BIG dreams....
Source:Instagram
1 of 31
2. HAPPY CHILDREN=QUALITY PARENTING. We don't always see eye to eye on everything and that's normal. We're human beings. But we come together and do it right for what's important, the kids. We are not enemies, we are parents. And we are parents 1st. S/O to @monyettashaw for making Mason's bday memorable. S/O to @itscrystalsmith at home taking care of our other lil' Prince. ❤️❤️❤️ THIS IS WHAT CO-PARENTING LOOKS LIKE. #Blessed #Happy #AboveTheDrama #BiggerThanUs
Source:Instagram
2 of 31
3. So happy to finally be able to share with you all that I'm the new Global Brand Ambassador for @Revlon! Follow my day on RevlonSnaps. Yay! Choose Love, Everybody! #RevlonXCiara #chooselove #ad
Source:Instagram
3 of 31
4. Glam on point!!!@makeupbymotoko & @shaylinjoneshair #easybreezy @lifetimetv #beachesmovie #january2017 😘
Source:Instagram
4 of 31
5. ✨True love ✨📸: @jessiemarrerophotography
Source:Instagram
5 of 31
6. #4
Source:Instagram
6 of 31
7. Today was not easy..but by the grace of God we all got through it. Words cannot express our gratitude for all of your Prayers, Positive thoughts and Support for us throughout the years. Tommy will be missed but most certainly never forgotten...And PLEASE don't ask "Where's Martin?.." he was there too...just not in this picture. Lol! God bless you all.. #LoveConquersAll #MartinShow
Source:Instagram
7 of 31
8.
Source:Instagram
8 of 31
9. West coast get ready for #RockyHorror. I will be live tweeting again. #letsdothetimewarpagain
Source:Instagram
9 of 31
10. #THEKEYS pre order yours now ... Available everywhere #NOV22 #WeTheBest 🔑🔑🔑🔑🔑🔑🔑🔑🔑🔑🔑🔑🔑🔑🔑🔑🔑🔑🔑🔑
Source:Instagram
10 of 31
11. We about to ROCK at #KCABlackBall!! All for our life-changing effort to end 🌎 AIDS.
Source:Instagram
11 of 31
12. Today's #SNAPJACK is brought to you by @yazzthegreatest 😂😂😂💋💋💋
Source:Instagram
12 of 31
13. Damn girl you kinda old to be headed to the Go Go. You coming in at the age they leaving. LMAO
Source:Instagram
13 of 31
14. Daddy daycare B-Boxin with @acewellstucker @shopraisingace
Source:Instagram
14 of 31
15. #FBF Naviyd & URV "LIL MONSTERS"
Source:Instagram
15 of 31
16. HAPPY BIRTHDAY TO ONE OF THE BIGGEST LEGENDS IN OUR HIPHOP HISTORY! @snoopdogg CONTINUED BLESSING AND LOVE FAMILY!!!!! REAL OG!
Source:Instagram
16 of 31
17. Thank you for a beautiful night VSU! Let's do it again! #HOMECOMING
Source:Instagram
17 of 31
18. Had a great time this morning with my familia Erica, Griff & Truth!!
Source:Instagram
18 of 31
19. Check out my interview on @essence facebook live. #inmyownwords #nycpromo #day2
Source:Instagram
19 of 31
20. #She💋 #tbt #TheCoveAtTheAtlantis #DawgPawsAndAll
Source:Instagram
20 of 31
21. Bae #retailtherapy
Source:Instagram
21 of 31
22. Why me and @coryhardrict got the same pose... and notee... new mouth #naked
Source:Instagram
22 of 31
23. When my husband is my personal 'hype-man'! it kills me every time! 💜😂 #WHATNOW #lostfiles📷
Source:Instagram
23 of 31
24. Diggy Simmons
Source:Instagram
24 of 31
25. Hand full of @jacquieaiche 💙💎💍 @esnail_la 💅🏾
Source:Instagram
25 of 31
26. SuperSoulers! You can watch my interview with Carl Lentz live from my Facebook page, tomorrow at 11a ET| 8a PT. #SuperSoulSunday
Source:Instagram
26 of 31
27. 💋 .. When the friendship is easy like Sunday morning. ☀️
Source:Instagram
27 of 31
28. Sunday mornings are the best........... hugs and cuddles with my angel
Source:Instagram
28 of 31
29. #huggar16 #hellohuggars
Source:Instagram
29 of 31
30. My gym is everywhere!.. #RnBMoney #TheGeneral 📸: @twelvepastseven
Source:Instagram
30 of 31
31. Nothing I would rather be doing... Rocko setting up our movie, Romelō working on a puzzle & Laiyah singing and sharing all she's learning at school... I'm so grateful for the joy they've brought into my life ... Praying for peace , joy & love in the home of EVERY family ♥️ #HeadScarfPJSunday LOL 😂
Source:Instagram
31 of 31